The 2019 Business, Faith and Common Good Symposium will be held September 13th in Harper 3023 from 2-5 with a reception to follow.  This year's program will be:
2pm Panel: How Faith Directs My Business Practices
Jim Abraham, Abraham Heating and Air Conditioning, Tom Deall, Owner of Chic-fil-A Bellevue
3pm Panel: 2 Models of Business for the Common Good: B-Corps and Economy of Communion      John Mundell– Mundell and Associates (Indianapolis) and Justin Nabity, Physicians Thrive (Omaha) https://physiciansthrive.com
4pm Keynote: "How I Got Mine" Mark Dahir, COO  Heart Ministry  Mark has an inspirational and powerful story of how God brought him to use his skills in finance for the good of the less fortunate here in Omaha.
5pm  Reception
Generous Sponsors:
The Business, Faith and the Common Good Symposium is an annual fall event which brings academics and practitioners to Creighton's campus to speak about how faith impacts their business, how business contributes to the common good, or whose vision of the common good is inspired by faith (or all three).
Our speakers for the BFCGI Symposium September 13th
 Jim Abraham, owner of Abraham Heating and Air Conditioning has an excellent reputation in Omaha and his faith guides and directs his personal and business decisions.  Along with running his company he volunteers to meet with Prisoners and has for many years.
Tom Deall, Owner of Chick-fil-A in Bellevue Nebraska is a Deacon in his church and has a passion for others which is displayed every day as he runs his restaurant.  His faith is obvious and his passion is contagious.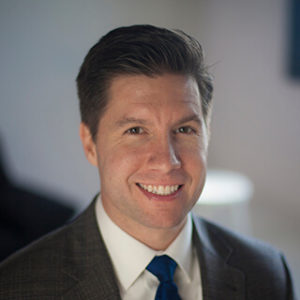 Justin Nabity, Physicians Thrive (Omaha)
Justin is a wealth-management advisor and co-founder of Physicians Thrive, a B-Corp company in Omaha which specifically helps physicians with financial planning and assistance.   As one of a handful of B-corps in Nebraska, Physicians Thrive is a unique organization.  Nabity also helped found Give Sight Global which helps provide medication to reverse blindness in needy countries.
John Mundell , Mundell & Associates, Indianapolis, is an environmental engineer/geologist and President and founder of Mundell & Associates, an environmental consulting company that provides services to government agencies, municipalities, and industries all over the world.  He is an active member and champion of the economy of communion, which focuses on the dignity of people in all aspects of business practices.  His company  provides expertise in environmental crises management related to water supply and contamination, wastewater treatment and human-health risk assessment
 Mark Dahir, director and COO of Heart Ministry Center, has a powerful story of redemption and how God brought him to use his financial talents to help the poor and needy, after a career in banking.  He has an inspirational story to tell.